---
&copy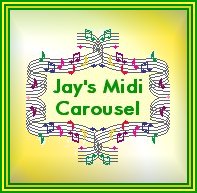 logo by "Twink's Ink"
---
WELCOME TO JAY'S
MIDI CAROUSEL
To the many artists that allowed me
to share their music with you I give
my heart felt thanks. Without their
music I would not have a web site.

I also give my heart felt thanks to
all who took the time to stop by.

Please understand that the quality of
the sound that you hear is a function
of the quality of the sound card installed
in your computer. If it sounds
tinny then you were ripped off.
So now is the time to jump on the "GO - ROUND" down under

AND ENJOY SOME OF THE BEST MUSIC ON THE INTERNET!
---
For anyone wishing to add a link to this site
feel free to use the logo or banner below or
design a new one for me. Please let me know
if you do so I can steal it for my page.
I'll include a link to yours if I use it.


Banner created by: JOHN TORP

Visit

for free, original DHTML scripts and components,
all of which utilize the latest in DHTML and JavaScript technology!
Please send any comments to: Jay Smith

Page design by PJ Productions